Availability: Please be advised we are unable to offer anything during the day, at weekends or whilst we are running a public tour during the week so please contact us to find out the times available.
Transport: We are up narrow lanes, and accessible by car, motorbike or minibus. Please be advised larger vehicles such as coaches or limo's will be unable to access the vineyard. If you have any concerns regarding your arranged transport, please do let us know and we shall be happy to advise further. We can provide details for local taxi companies upon request.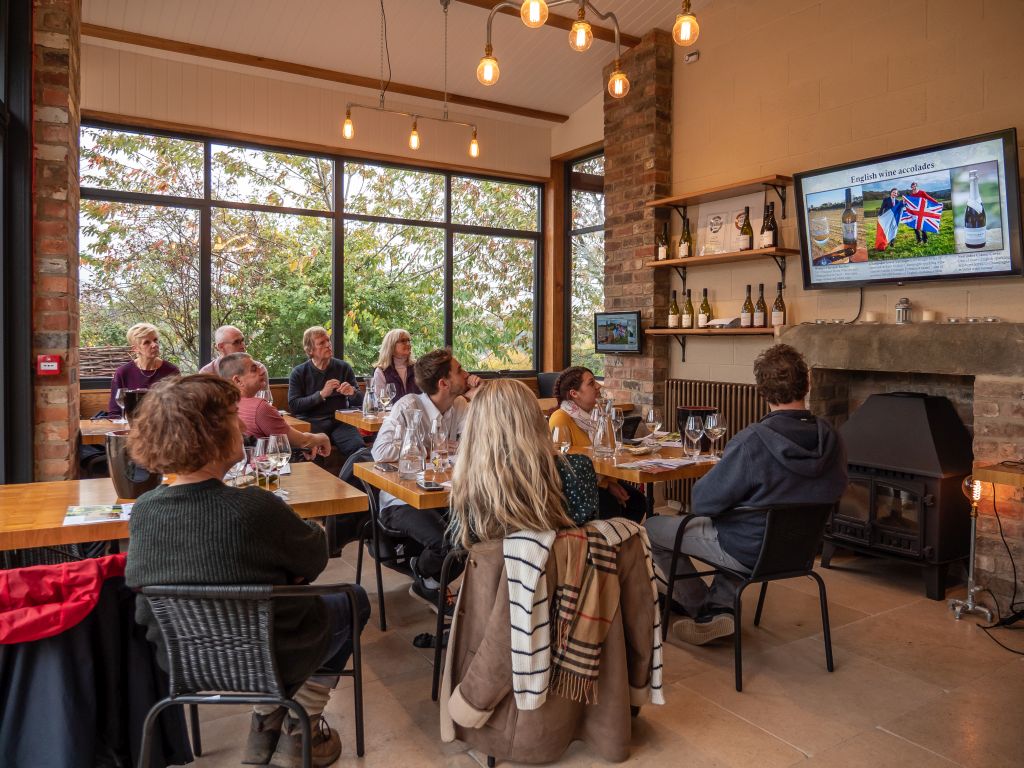 Private Events and Team Away Days
We offer private tours for larger groups (8 or more), Hen/Stag parties, Corporate Events, Charity Events etc. Here we welcome you and your party to our picturesque tasting room where you can enjoy a relaxed setting and engage with your guests or colleagues in a way that differs from the usual event space or board room, accompanied by a tasting of our award winning wines.
What's included:
A welcome drink to enjoy during a brief and informative presentation of the English wine industry and Woodchester Valley's story so far in our bright and modern tasting room which can seat up to 35 people (50 standing for a reception).
(Optional) A guided tour of our vineyard and winery to learn about the complete process of viticulture and winemaking. 
A tutored tasting of 4 or more wines. The tour and tasting can be tailored to suit your group, this can be as formal and informative as you want, or this could be a light hearted approach to wine with the inclusion of some competitive fun such as a quiz about the experience once the tour and tasting has concluded.
We can also include food options and can provide sample menus. Takeaway bottles can be arranged in advance should you want your guests to leave with a gift.
Example Half Day Itinerary
10am: Arrival at vineyard with tea, coffee, cakes/biscuits in tasting room or terrace.
12pm: Guided visit to the vineyard and winery.
1pm: Buffet style lunch with tutored wine tasting.
Depart 2/2:30pm
 

Example Drinks Reception

5:30pm: Arrival at vineyard for drinks reception in tasting room.
Optional short tour for those interested.
6pm: Wine flights with paired canapés
6:30pm: Networking/socialising time, additional wine can be served by the glass.
Depart 7:30/8pm
Get in touch with your requirements: info@woodchestervalleyvineyard.co.uk