Visit the Vineyard
Join us on one of our tours and learn about the world of English wine. Our tours are friendly, informal and informative and will give you an insight in the world of wine-making and the chance to try a range of our multi-award winning wines.
Our tours run year round however timetables vary seasonally. We have two tours to choose from:
Classic Vineyard & Winery Tour
Vine to Wine
Join us on a  journey of discovery through the vineyard, into the winery and finally into the glass and learn all about the fascinating world of  viticulture and winemaking in a cool climate. Taste a selection of our uniquely Cotswold still and sparkling wines and 'drink in' the Cotswold views in our Tasting Room. (5 wines, 4 still and 1 sparkling)
Our classic tour, includes the following;
An aperitif and introduction to the vineyard on arrival
A walk through our Woodchester vineyard site, including explanations of the grape varieties grown, and the life cycle of the grapes
A tour of our winery, with details of the winemaking process
A full tutored tasting of 5 of our current wines (4 x still wines, 1 x sparkling)
Opportunity to meet our team and ask questions and purchase bottles of wine from our farm shop.
Tickets are £15 per person and must be booked in advance.
Tours run year round:-
1st May - 31st October: Wed,Thur, Fri, Saturdays and Sundays
1st Nov – 30th April: Wednesday,Thursday, Friday and Saturday.
Sparkling Wine Tour
Discover the effervescent world of Sparkling wine, visit the winery and explore the different production methods used across the world to produce sparkling wines. With English Sparkling wines enjoying world wide recognition, try for yourself and taste a selection of our uniquely Cotswold English Sparkling wines. (4 Sparkling Wines and 1 still)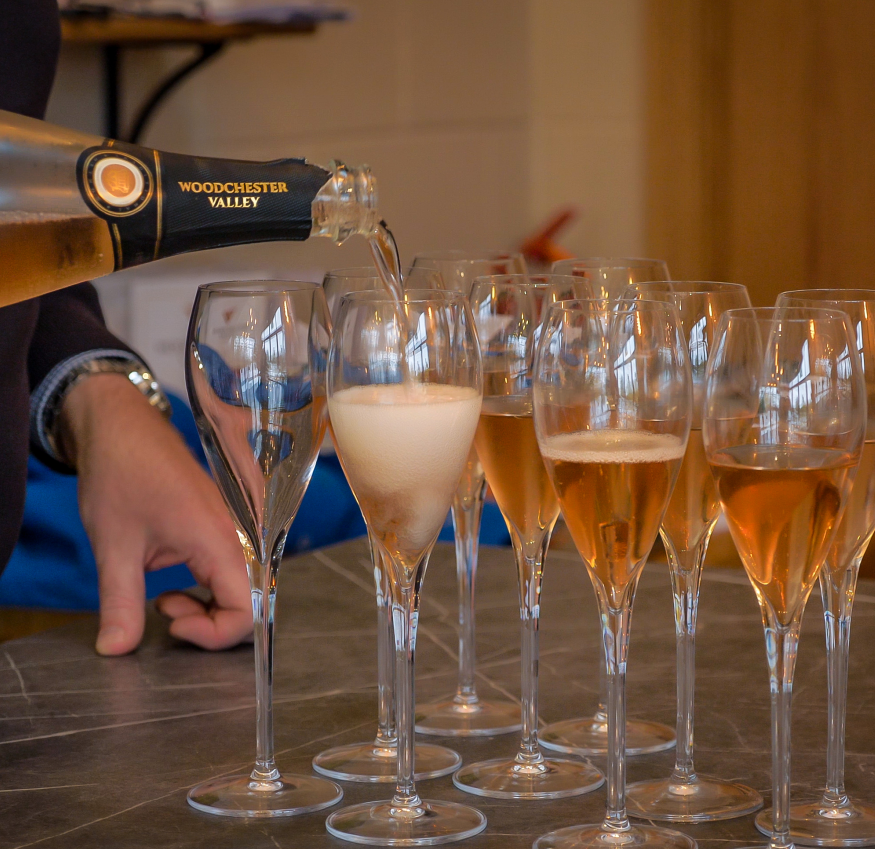 For those who would like to learn more about sparkling wine production and sample our full range of sparkling wines, the tour includes:
Glass of sparkling wine on arrival with an introduction to sparkling wine production
Tour of the winery focussing on sparkling wine productions methods
Sit down tutored tasting of 5 wines (4x sparkling wines and 1x still wine).
Opportunity to meet our team and ask questions and purchase bottles of wine from our farm shop.
December special – 13th and 20th Fizz and Quizz with an opportunity to win a bottle of sparkling wine.
Tickets are £20 and must be booked in advance.
Tours run year round:-
1st May -31st October:  Thursday, Friday and Sunday.
1st November – 30th April: Friday pm
---
GROUP BOOKINGS
If you are a large group of more than 8 people please contact us directly to discuss options for your visit, whether you are a group of friends, wine society, or other social group.
Please note that hen and stag parties are not suitable for our public tours, please enquire about a private booking.
---
FREQUENTLY ASKED QUESTIONS
How do I get to you?
Once we have received your reservation and payment has been processed, you will receive an email with detailed directions on how to find us. If you do not receive this, please check your spam inbox, or contact us if you haven't received it.
Are children allowed on the tours?
Unfortunately our vineyard tours are not suitable for anyone under the age of 18.
Is there a taxi firm I can contact to book a ride back?
There are several local firms which we have used and can be booked in advance. We have used the following firms in the past:

Wonky Wheels 01453 767878 
Lady Cars 0796 996 3351
What if I need to change/cancel my reservation?
Please contact us at least 48 hours before your tour date if you need to amend or cancel your reservation. We will offer a full refund or can re-book you for another date with 48 hours notice. I'm afraid we cannot offer refunds if you cancel your booking with less than 48 hours notice. If circumstances are beyond your control, please get in contact with us.
I have a gift voucher which I'd like to use against my booking; how can I do this?
If you have received a gift voucher, you will have a voucher code included. Please select your dates as normal and add to the basket. The gift voucher code can be entered at the check-out and this will deduct the value of the gift voucher from your order. Please note that if your email/voucher states that you have a 'coupon code' then this should be entered in the coupon code box at the check-out. If the full value of your voucher has not been used on this purchase, then the balance will remain to be used on another purchase.